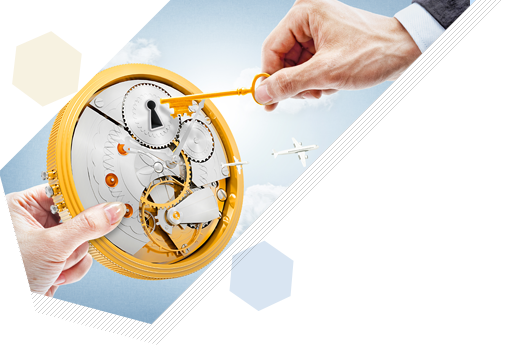 Introduction of consulting business


BIZPEER, founded in 1994 as a specialized consulting company in quality, process and engineering service, has performed the consulting for the success of customer and business innovation in various areas of industry till now.
BIZPEER provides the integrated solution to support the customers effectively including process improvement, technical advice necessary for product development and engineering activities, management support tool solution development and supply, training for professional manpower, supervision, product certification etc.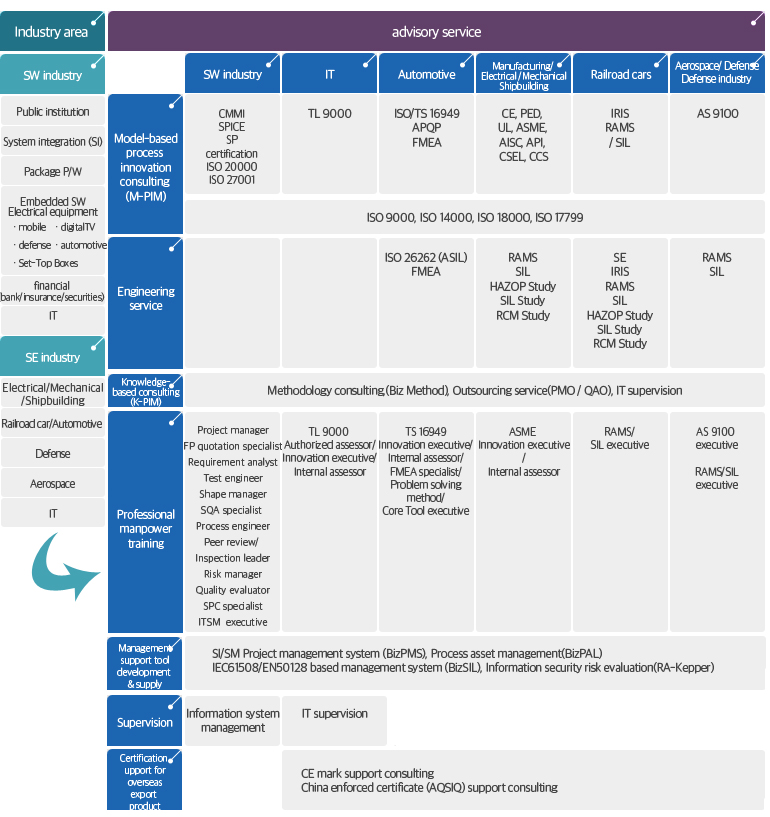 Terminology
CMMI : Capability Maturity Model Integration
SPICE : Software Process Improvement and Capability dEtermination
SP : Software Process
RAMS : Reliability, Availability, Maintainability, Safety
SIL : Safety Integrity Level
ISO : International Organization for Standardization
TL : Telecommunication Leadership
APQP : Advanced products quality planning
FMEA : Failure Mode and Effect Analysis
ASIL : Automotive- Safety Integrity Level
CE : Communaute Europeenne
PED : Pressure Equipment Directive
UL : Underwriters Laboratories
ASME : American Society of Mechanical Engineer
AISC : American Instiute of Steel Construction
API : American Petroleum Institute
IRIS : International Railway Industry Standard
BSC : Balanced Score Card
TPM : Total Productive Maintenance
TPS : Toyota Production System
SQA : Software Quality Assurance / System Queue Area
FP : Function Point
SPC : Statistical Process Control
ITSM : IT Service Management
AS : Aerospace Standard
CSEL : China Special Equipment License
CCS : China Classification Society
AQSIQ : License of Registration for Overseas Supplier Enterprise of Imported Solid Wastes as Raw Materials
Why Bizpeer?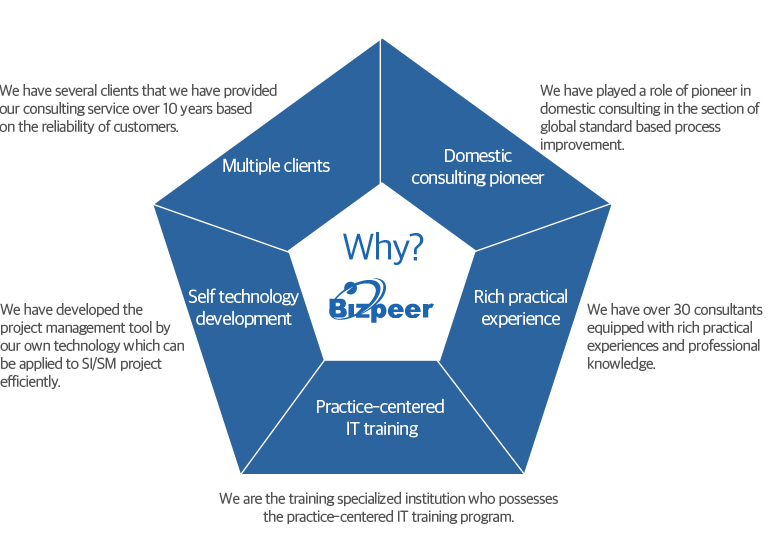 주요이력
2014년

도시철도건설사업 시스템엔지니어링 컨설팅 개시 (김포도시철도)
NIPA GCS 혁신기술과제 품질점검 및 컨설팅 개시

2013년

고용창출부문 유공자상 (고용노동부장관상) 수상

2012년

자동차부문 ISO 26262, ASPICE 컨설팅 개시 및 ASPICE CL2 국내 최초 인증획득 (대성전기)
NIPA WBS 멘토링 서비스 및 품질점검 서비스 개시

2011년

CMMI-SVC, CMMI-ACQ 컨설팅 개시 (한국전력공사)

2009년

CMMI Institute(구. 미국 카네기멜론대 소프트웨어공학연구소, SEI) Partner 지정

2008년

SIL (Safety Integrity Level) 컨설팅 개시 (현대로템, ADS Rail)

2007년

Six Sigma와 연계한 High Maturity (CMMI L4,5) V1.2 컨설팅 개시

2006년

ISO 9001 품질경영시스템 인증 (컨설팅, 교육서비스 부문)

2005년

기업부설 연구소 설립 / 유망중소기업 선정 / 벤처기업 등록

2004년

교육부 남부교육지원청 평생교육시설 및 노동부 직업능력개발훈련시설 인가

2002년

회사 사명 변경 (현 사명), CMMI기반 PI 컨설팅 개시(한진정보통신)

2001년

KAB의 Risk Assessment Database 공동 개발(BS7799), 정보보안경영체제(ISO17799) 위험평가 패키지 소프트웨어 개발 (발주처: 산업자원부)

2000년

유럽소프트웨어협회(ESI) 공동 업무 협약 체결 (CMM, Balanced IT Scorecard 등), QuEST Forum TL 9000 교육기관 지정

1994년

회사 설립, IT분야 품질컨설팅 개시 (ISO9001/TickIT컨설팅: LG-EDS, 현대정보기술, 포스코ICT, 노틸러스효성 등)